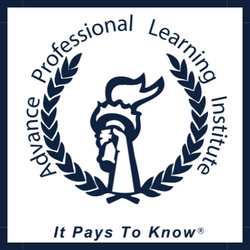 Advance Professional Learning Institute
Kentucky's Leading Home Inspection School
The Harvard of Home Inspecting!
About PLI
Class Dates
Rated "best" by experienced inspectors, PLI was Kentucky's first approved home inspection training school, provider. Today, it is the region's leading school.  Courses are offered that earn licensing credits in states across the region, polish skills, and help build successful businesses.
Courses
Courses for Home Inspectors
Class Dates
Dates for Upcoming Classes
Newsletter
Read Current and Past Editions
Contact Us
Contact Us With Questions
I've been taking my CE classes with Advance Professional Learning Institute for over a decade. Steve and Lorri are always kind and inviting. They have a vast knowledge of the KBHI. They are up to date on all new laws and regulations surrounding the Home Inspection Industry. Their slogan is "We're here for you." They live up to that! Honestly, I can't imagine using anyone else for my CE classes. They are truly the best in the business.
When I decided to add a Kentucky Home Inspection license to my existing Indiana one that I received after taking a class from a different company, I really didn't put much research into where to get it. My only real point of search was to find who had a class closest to my available timeframe. PLI was what I found. Since I'd already passed the national exam, I wasn't too worried about the content, the instructors, or really even how successful I would ultimately be in the classroom. I had already completed the goal of most other students who would be there. HOWEVER...Upon getting through the first parts any class, introductions, summary outline etc, it was very apparent that I had lucked into one of the most incredibly "target rich environments," as Steve likes to say, for information. I wouldn't say that the first school I had attended was bad, in fact I'd say it was great...PLI, however, it's clear is the BEST. Not only was material clear and presented well, Steve took the time to teach to multiple styles of learning and even helped each student understand their own test taking patterns with the goal of improving their future test scores. As if that wasn't enough, Steve and Lorri both made it very clear that we were to continue to use them as resources throughout our careers. Other instructors say similar words but rarely to they almost demand it like Steve and Lorri. As I start my new business, I have a safe, calm confidence that before PLI I know I lacked in dealing with the unknowns in an unfamiliar industry. I feel I came to PLI by chance and I feel I left with very little put to chance and with the bonus of a new Home Inspector and business owner family.
When I decided to start my path towards home inspections and obtaining a home inspectors license, there were a number of choices I had as far as which school to attend for my required classroom hours. I'm happy to say that I made the right choice with PLI4U. There is a lot, A LOT, of information to cover and these instructors were not only experienced and knowledgeable, they also presented all of this information with an organized, and engaging approach. Before the class, I knew nothing about home inspections. A few weeks after the class, I passed the national home inspector exam the first, and only, time I took it!
I absolutely loved the classes. The PLI team is very knowledgeable and genuinely care about the home inspection industry. I will be working with PLI for years to come!!!!
I have attended PLI for years and would use no other service for my education and training. Steve and Lori are extremely knowledgeable and keep the classes interesting. They both go above and beyond the call of duty, they have always answered any question that I may have at any time. I truly thank you both! Bob English
Steve and Lorri presented a lot of information in a very short period of time. They made me feel like I could actually do this! They both give special attention and put forth the extra effort to get it right in this industry. I know that when I have issues in the future and need someone I can bounce things off of, they will be there. Already looking forward to doing my continuing education classes with them as well.
Attending PLI was the best decision I made when deciding to become a home inspector. You can tell that Steve and Lori have a great passion for all aspects of home inspecting and helping their members. They continue to be there for me when I call with a question. Their services are unmatched! Thank you Steve and Lori!
Michael Hughes
20/10/2021
PLI was the only choice to get the accredited training required to be a licensed home inspector in Kentucky. I followed in my fathers footsteps by attending PLI at his suggestion and thankful I did. Steve is a wealth of knowledge and an invaluable resource going forward.
My first introduction to Lorri and Steve was several years ago to get Kentucky specific training in order to get a KY license after attending another national HI training course. Immediately I could tell the difference in quality of training. Not only is Steve an expert home inspector and instructor, he's also an attorney who specializes in home inspector issues. My favorite thing is that Lorri and Steve met me once during the initial two day course but they know exactly who I am. Lorri has helped me countless times, every time I call with a question or issue, they sincerely care about your success. I have never needed to call anyone else for training or help, and I never will. I cannot recommend PLI enough! Thank you Lorri, Steve and Evan! 💪
Licensing
Licensing Requirements
Sign Up
Sign Up for Classes
Other Services
Services We Offer