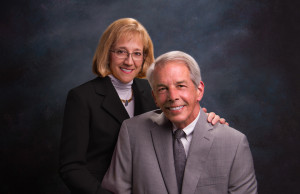 Lorri Keeney, Owner  & Steve Keeney, Dean
Rated "best" by experienced inspectors, PLI was Kentucky's first approved home inspection training school, provider (KBHI: P-1001 CE-1002).  Today, it is the region's leading school referred to as The Harvard in Home Inspecting.   Courses are offered that earn licensing credits in states across the region, polish skills, and help build successful businesses.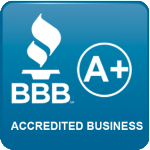 Home sales are taking off again but home inspectors are in short supply.  So are well-trained people who know the nuts and bolts of real estate — in many businesses.  PLI has graduated architects,  real estate agents, electricians, plumbers, real estate investors, and many other pros who put their skills to work getting an edge over the competition   (You can see a sampling of praise from them at the Endorsements page.)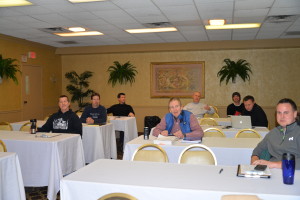 PLI is a full-time, nonstop home inspection learning service.  Home inspector classes are offered monthly, year-'round.  Support is nonstop too.  PLI's newsletters are the first, best source of news on inspecting homes — from new laws or regulations to new environmental research and policies.  As a recognized educational provider, PLI provides year-'round educational discounts from most suppliers in the field, including special software, insurance, equipment, tool, and book discount deals for all students and alums.  PLI is certified by the Kentucky Board of Proprietary Education, in contrast to many part-time providers.  Among other things, that means all student tuition payments are insured by a bond posted with the state Board, so no student tuition will ever disappear, as has happened at other schools in the past.
PLI's house inspector training classes are taught in person with slide presentations taken from real Kentucky home inspections.  Most class sizes are limited, to be sure everyone can ask the questions they need answered.  That's one of the reasons PLI pre-licensing classes have pass rates on the national exams that others only hope to achieve.  PLI accepts students from pre-licensing courses elsewhere who failed the national exam or found that they were short of required credits to get a license.  License training includes on-site inspections with a licensed home inspector at real homes that PLI provides.  Elsewhere, students are told to fly to some other state for inspections, or try it by themselves in their own house.  If you really want to learn to inspect a home, you really want to start with a PLI instructor at your side — in a real home, doing a real inspection.
Updated constantly, all classes are led by experienced pros in the field.  Law, standards of practice, regulations, contracts and similar courses are taught by a lawyer who also actually has inspected homes.  You also will find prior licensing board chairmen and expert witnesses teaching classes at PLI, just to give a few examples.
From its large annual reunion to private classes, PLI has what you need when you need it.  Call now for the newest offerings, your special needs, and early reservation discounts.
Start your own business: PLI4U is the "Gold Standard" in professional home inspection training for building your own business.  "Being your own boss" has many advantages, whether you are building a business you hope you can hand to your children or you are building a backstop for retirement.  The rewards go beyond the balance sheet, too, because home inspecting is a much-needed service to the public and a widely recognized consumer protection.  Doing good, and earning good money at it, is a nice mix!
PLI's time-tested curriculum has graduated many successful inspectors over the years. Going to PLI builds you into a family-style network of the top pros in the field, from day one.  For all your business needs, in classes and out in the field or back at the office, PLI's home inspection training and services have what you need when you need it, including the latest in successful practices, state of the art technology and equipment, and hands-on-site inspections.
Career objective : PLI4U's goal is to help educate and build the best home inspectors in the field — and then get that knowledge and those skills to work for everyone who needs them.
Every PLI class and seminar provides a rich mix of information and "hands-on" experience at an affordable price. The home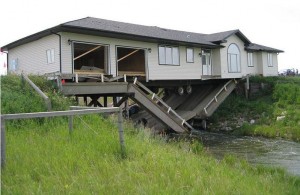 inspector program gives each student the skills required to obtain a license and employment as a home inspector and meet all the Kentucky and Tennessee Pre-Licensing and Continuing Education.  Student gain background knowledge on how to inspect each component of a home inspection (structure, electric, plumbing, roofs, interior, exterior, general residential, HVAC), the standards of practice, the code of ethics, licensing laws, contracts and manufactured housing — all to the KY and TN Licensing requirements.  Sometimes, you really might not believe what you really see.  Like the manufactured home, above, that gave new meaning to the old phrase "water under the bridge"!
Experienced instructors bring know- how to the class with years of professional experience in every subject.
Still, doing a top-notch job takes more than just knowing how to look a house over.  It is just as important to skillfully say what you see.  An excellent home inspection report is every bit as important as an excellent inspection.  The home inspection report is the product delivered.  Hands-on work with the tools of the trade, meters, software and report writing standards of practice make you truly prepared.
On-going support and constantly updated resources keep you at the front of the pack and provide needed continuing education.
To learn more, or to become a licensed home inspector, please call Professional Learning Institute4U, LLC ("PLI") at  502-896-2020.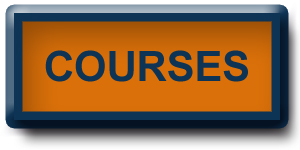 PLI School approved:
Kentucky
Tennessee
Indiana
ASHI Credits
InterNACHI Credits
On-Site/Lab Training