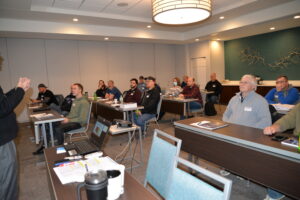 1. Manufactured Housing Inspection
2. Standards of Practice, Licensing Law and Regulations, Contracts, Report Writing & Communications & Codes of Ethics
3. Exterior (including Grounds, Site and Grading), Roofing, Insulation & Ventilation
Roof Inspection
Attic Inspection
Insulation & Ventilation
4. Structural & Interior Inspection
Structural
Garage and Carport Inspection
Interior Inspection
Bathroom and Kitchen Inspection
Electrical Inspections
Plumbing Inspection
6. Heating & Air Conditioning Inspection
Heating Inspections
Air Conditioning Inspections
7. Actual Inspection in Laboratory Setting
8. General Residential Construction
9. Environmental hazards, mitigation, water quality, and indoor air quality
10. Minimum Three Home Inspections (with satisfactory written reports).
11. Final (Exit) Examination
12. Elective/Optional Courses
Communication/Business Practices
Environmental Inspections & Radon Inspection
Introduction to Mold Inspections and Sampling
Report Writing
Wood Destroying Insect Inspection
CURRICULUM SUMMARY KBHI: P-1001 CE- 1002
This is a summary of the curriculum for the Pre-Licensing (core curriculum) training of home inspectors. Classes will be taught by credentials/licensed professionals in each of the fields listed below. Some of the instructors are certified home inspectors who have performed many home inspections over their careers. The methods and materials used will include texts and manuals, illustrations, slides, photographs, videos, Power Point presentations, web sites, actual components for "hands- on" (tools of the trade) and lecturing. Courses may include web-assisted and field training.
Each section that will be taught by a licensed professional will begin with the standards of practice (SOP) that have been adopted by the Commonwealth of Kentucky for that component. Since Kentucky essentially adopted two SOP's, (ASHI & InterNACHI), both are presented and compared.  The instructor will provide an overview of the topic and give instruction on the guidelines in their field.
An example of a credentialed professional is the instructor for the "Structure" module, who graduated from UK with a degree in architecture, has been associated with several KY architectural firms, and has run a design business for over 10 years.
An example of licensed professionals is a KY licensed master electrician with over 10 years of experience who teaches the Electrical course. Another example of a licensed profession is a KY licensed plumber who is co-owner of a major plumbing company, who teaches PLI's plumbing module. It is not intended or implied that instructors are "licensed" teachers, though more than a few have been or are.
In each course, proper reporting techniques are discussed as to each topic. Most courses include material outside to the scope of a general home inspection to help illustrate the dividing line and encourage students to recommend clients obtain additional professional help when it is needed.
PLI's instructional plan includes rotating all classes through the southern and eastern areas of the state, through agreements with area community colleges for classroom and instructional space, in addition to servicing its Louisville market. Some of these rotating classes will take advantage of PLI's video/DVD classes, and web-assisted instruction, more than others, but all will adhere to the curriculum basics set out in this summary.
PLI students may exceed minimal requirements of PLI or any licensing state at their election. PLI provides home study and continuing education options, priced separately, that constantly are updated. PLI also provides individual tutoring, likewise priced separately. PLI also may provide additional optional services from time to time in support of specific students or groups.
All examinations, whether for pre-licensing, CE or elective/supplemental course work, are retained by PLI under its document retention policy and with each student's consent) for an appropriate period of time – ordinarily three years.
PLI does not discriminate on the basis of race, religion, gender, national origin, or any other suspect classification. Rather, PLI welcomes all who want to learn.
Introduction
Although each course is generally summarized below, the courses are carefully designed to avoid/minimize overlap or repetition, to make the most of the learning opportunities in the overall time of instruction, and to comply with Kentucky regulations. Likewise, though classes are taught by credentialed/licensed professionals in each of the fields listed below, their instruction and presentations have been, and continue to be, reviewed by the academic leadership to assure quality control and teaching effectiveness. Many already have taught tuition-free classes for PLI and been approved, based on leadership evaluations and student feedback. All or nearly all have demonstrated their classroom effectiveness either in PLI tuition-free classes or in classes supervised by other recognized professionals, such as the Jefferson County, KY Public Schools Adult Education Program and the like.
PLI's academic leadership stands out in the field. Lorri C. Keeney, President and founder, was head of United States Home Inspection Academy ("USHIA") in Connecticut for nearly a decade. USHIA was among the first schools for home inspectors accredited in Connecticut and Massachusetts. She has been in the home inspection business since 1993, in several states, after managing various relocation projects for Cendant, the nation's largest relocation company at the time. Her home inspection company, InspectHomes4U, is a NRSB ("National Radon Safety Board") accredited radon laboratory. Lorri is active in a number of other groups, such as the Better Business Bureau, the Homebuilders Association, and others. She was certified as a teacher in the northeast and taught in Australia for three years. She received her B.A. from Western Connecticut State University. Her mother retired as Distinguished Librarian for the Brookfield, CT Public Schools. The Dean, Steven H. Keeney, also was certified as a teacher in Connecticut and served as Assistant to the Superintendent of Schools for the Hartford, CT Public Schools. He also served as a member of the Board of Education in Lebanon, CT and his articles on education have appeared in a variety of publications, including The New York Times and The American School Board Journal. He began work in the home inspection business in 2000 and is a Kentucky licensed home inspector (HI-2055) and a InterNACHI Certified home inspector, in addition to being an honorary lifetime member of KREIA. Dean Keeney also is a NRSB ("National Radon Safety Board") certified Radon Measurement Specialist and a recipient of the KMHI ("Kentucky Manufactured Housing Institute") 2006 Certificate of Achievement for completion of the Kentucky-approved manufactured home inspection course (to cite just one example of his continuing course work of late). He received his B.A. from Trinity College ('71), Hartford, CT; his M.A. from Hartford Seminary ('73); and his J.D. from University of Connecticut ('80). His late father was Dean of the University of Louisville Medical School, where his mother, Dr. Virginia Keeney became the oldest professor at an American medical school.
In short, PLI's leadership is experienced home inspection professionals, who have (1) professional training and experience (2) both in the home inspection business and in teaching. Based on their years of experience, the President and the Dean supervised design of the PLI curriculum to satisfy all Kentucky regulatory requirements and to deliver a top-quality product to pre-licensure classes, CE classes, and to the public's benefit.
1. Manufactured Housing Inspection – 2 Hours.
This three hour course is intended for new, intermediate and experienced home inspectors and will provide information that will offer a guide to the inspection of manufactured, modular, mobile and panelized houses. It is designed to cover the basics in each component, as well as proper installation techniques. It begins with discussion of the history of manufactured housing; covers inspectors' uses of the data plate, HUD label and other information sources; and then studies site preparation, foundation requirements and layouts (footer sizes & pads & piers), design loads for foundations, anchorage and tie downs (straps, anchors & bolts). The next section will cover plumbing, electrical, roofs, exterior, crawl space, interior and a brief review of HUD maps showing flood zones, wind speeds, and Kentucky's vulnerability to landsliding. Through the use of a power point presentation in a classroom environment along with multiple photographs of manufactured houses, when the student successfully completes a final exam, they will have earned 3 credit hours.
2. Standards of Practice, Licensing Law and Regulations, Contracts, Report Writing & Communications & Codes of Ethics – 12 Hours.
This 12- hour course, taught by a Kentucky attorney with nearly 30 years experience in court, focuses on the law that directly affects home inspections and home inspectors. The instructor has lectured at previous KREIA conventions/seminars and other CLE courses. The course begins with Kentucky law (both statutory and regulatory) on home inspectors, licensing, and duties. This includes data the inspector may rely upon and methods of incorporating or "flagging" such data (such as listing information on age of a structure, etc.). It also includes the evolution of ethical standards and their current status in Kentucky. The second segment summarizes (since students have had detailed introductions in each subject area) the two existing national Standards of Practice adopted in Kentucky and provides updates. The third segment considers the impact and uses of SOPs and licensing regulations in the context of controversies and litigation. It will include current information on consumer complaint procedures (and alternative dispute resolution options, such as Better Business Bureau or American Arbitration Association mediation and arbitration), including those put in place by Kentucky and comparisons with other states. The fourth segment is an overview of the Kentucky law of contracts (including limitations of liability, Kentucky statues affecting home inspectors, and enforcement of contract provisions, such as arbitration clauses and mold exceptions), risk-shifting (such as insurance), and allocation of liability. Finally, the course concludes with the variety of legal requirements affecting home inspection businesses, from state and federal taxation of various forms of businesses (and how they are formed in Kentucky), to non-discrimination/anti-harassment/non-retaliation requirements under various state and federal laws, to citizenship/Homeland Security requirements, to privacy laws (including credit card security, uses of personal information, and Internet issues). Through the use of a power point presentation in a classroom environment along with multiple examples drawn from actual cases and controversies, when the student successfully completes a final exam, they will have earned 12 credit hours.
3. Exterior (including Grounds, Site and Grading), Roofing, Insulation & Ventilation – 6 Hours.
The exterior of a house encompasses many components and is often neglected. This course is designed to teach home inspectors how to observe, describe, analyze and accurately report within the ASHI or NACHI standards of practice all the exterior components of a house: overview of exterior cladding, wall surfaces, trim, soffits and fascia, windows and doors, flashing, caulking, overview of exterior structures, porches, decks, balconies, garages and carports, an overview of surface water control and landscaping, lot grading, gutters and downspouts, window wells, walks, driveways and grounds, and retaining walls. Appropriate reporting methods discussed and examples supplied.
Roof Inspection
Objective: The roofing inspection is a very important aspect of inspecting a home. The main purpose of the roof is to protect the house and its occupants from the elements – wind, snow, rain and the sun. The inspector will learn both how to determine how well the roof can do its job and the signs of typical and atypical wear or deterioration.
Types of materials and the procedures for installation are described, illustrated and discussed in detail. Samples will be available for hands-on identification. How to identify different types of roofing materials will be studied with a hands-on approach with samples of many types. Roof structure designs and the reasons roof failures occur will be covered, including framing, sheathing, defective roofing materials and installation errors. Topics covered will include general strategies for steep roofs, asphalt shingles, wood shingles and shakes, slate, clay tile, concrete tile, fiber cement (asbestos cement, mineral cement, or cement asbestos shingles), metal roofing, roll roofing, steep roof flashings, flat roofs, built-up roofing, modified bitumen, synthetic rubber, plastic roofing, and flat roof flashing. Original instillation irregularities, material failure based on ageing and materials that prematurely become defective are key components in roofing.
Flashing, drainage and ventilation provisions will be discussed along with the aging process and how they lend themselves to leaking if not adequately installed. How to evaluate the roof for active and past leaks is illustrated and discussed in detail with emphasis on the roof slope, attic clues, and surrounding weather exposure.
Learn how to identify the style of the roof and methods of roof inspection. Describe the type and condition of exposed flashing. Learn how to recognize properly installed skylights and signals of failure. Describe the type and condition of gutters and downspouts. How to select and use the appropriate tools: ladders, binoculars, safety gloves, shoes, roof slope finders, moisture meters and most important, when to and not to walk on the roof. Safety issues concerning the inspection process are discussed and reinforced. Appropriate reporting methods discussed and examples supplied.
Attic Inspection
Attic inspection is crucial to (and usually precedes) roof integrity inspection questions; it also defines many insulation considerations.
Students learn how to locate and identify access methods. Understand how to identify the type of roof framing. Describe the type and condition of ceiling frames. Students are shown how to take precautionary note of hazardous areas of a roof, visible more readily from the attic. Identify types and proper installation of roof sheathing. Describe the type and condition of attic insulation. Learn the different methods of attic ventilation. Learn to evaluate vent pipes and flashing in the attic. Understand how to recognize holes, gaps, or leaks. Learn where to look for moisture and mildew and understand different evidences of prior or present water penetration. Appropriate reporting methods discussed and examples supplied.
Insulation & Ventilation
Objectives: Train the home inspector how insulation, air/vapor barriers, and ventilation system work to keep houses comfortable and structurally sound. While most homeowners consider that ventilation and insulation exists to reduce heating and cooling costs, the home inspector's goal inspecting insulation, air/vapor barriers, and ventilation systems is to identify conditions that may damage or ruin the house.
The course covers the basics of types of insulation and how they work. Learn how to describe some of the common materials and their characteristics. Air/vapor barrier materials, venting roofs, venting living spaces, attic insulation, flat and cathedral roofs, walls above grade, basements and crawl spaced, floors over unheated areas and exhaust fans will be covered in this course. Moisture control, a very important and poorly understood component will be discussed. Roofs, walls, floors, basements, and crawlspaces will be studied on how insulation and ventilation problems typically occur in each aspect. Approaches that help with ventilation to maintain good air quality in buildings are a rising concern and will help the inspector advise customers.
4. Structural & Interior Inspection – 9 Hours.
Structural
Objective: Inspecting the structure of the home is an important step in the home inspection process. The general usefulness of the whole home depends on how sound its structure is. In the extreme cases, the safety of the occupants is at risk. The home inspector observes all those aspects of the home's structure that are readily available for inspection, describes the type of construction and the material used in the structural components, and reports any problems or defects found.
Identify and describe the type of footings and foundations, sills, columns, beams, joists, sub-flooring, concrete floor slabs, introduction to wall systems, solid masonry walls, wood frame walls, masonry veneer walls, arches and lintels, an overview of the roof structure, rafters, roof joists, and ceiling joists, collar ties, knee walls and purlins, trusses, wood "I" joists, and roof sheathing.
Understand common defect in each.
Many illustrations are used to discuss several types of foundations and the different materials used to build them over the years. Soil conditions and characteristics effecting foundations are reviewed and displayed in the illustrations. Foundation failures due to poor materials and poor soil preparation will be illustrated. Examples of cracks both typical and structural will be reviewed in detail. Different repair methods are considered. Items that will required a licensed engineer will be discussed in length.
Appropriate reporting methods will be covered and examples supplied.
Garage and Carport Inspection
Particular focus on attached garage/carport inspections is a key for good inspections. Students learn to describe type of garage structures, whether attached or detached. Describe the condition of the vehicle door(s). Determine the functionality of door openers. Evaluate a vehicle door's automatic reverse and safety features. Identify and describe the type of flooring. Describe the walls, windows, and ceiling. Understand how to recognize a separation wall. Learn to evaluate a door to living space. Identify and describe garage ventilation system. Determine the level and sources of moisture intrusion. Learn signs of mildew. Identify GFCI and non-GFCI electrical outlets.
Appropriate reporting methods are discussed and examples supplied.
Interior Inspection
Virtually every space within the living area is inspected: the walls, ceiling, floors, heat sources, windows, doors, attic, basement and crawl spaces. Each one is evaluated and discussed as related to inspecting standards and accessibility. Typical cracks, settlement, sagging and cosmetic items are separated from conditions which could be a structural deficiency that a licensed professional would have to further evaluate.
Types of windows, doors, flooring, stairs, and handrails are identified and illustrated for visual inspecting data. Floor samples will be available for hands on training.
Identify the number of bedrooms and bathrooms. Identify and describe the type of floors. Identify and describe the type of interior walls. Describe the type and condition of ceilings. Learn to evaluate different types of entry doors. Learn to evaluate different types of interior doors. Identify properly installed stairs and railings. Describe the type and condition of window. Learn where to look for moisture and mildew. Understand how to evaluate the fireplace.
Identify proper tools for interior inspecting. Samples will be available for training purposes.
Appropriate reporting methods discussed and examples supplied.
Bathroom and Kitchen Inspection
Particular attention in interior inspections is given to baths and kitchens. Students are shown how to identify and describe the condition of the toilets. Identify and describe the condition of the sinks. Understand how to recognize proper ventilation. Identify and describe the condition of the bathtubs. Describe the type and condition of the shower walls. Identify and describe the condition of the flooring. Identify the GFCI and non-GFCI electrical outlets. Determine the level of moisture and mildew.
PLI employs an extensive lab of equipment types and hands-on opportunities in presenting these materials (see photos).
Appropriate reporting methods discussed and examples supplied.
5. Electrical & Plumbing – 9 Hours.
Electrical Inspections
The most important aspect of the electrical inspection is to be on the alert for safety hazards. Instruction will be provided on the basic principles of a residential electrical system through a detailed coverage of both SOPs and The National Electrical Code (NEC) basics. Although home inspectors perform a visual examination of the electrical system and not a code inspection, being familiar with the NEC regulations is important for reporting and safety. The causes for most defects and hazards will be discussed in detail.
Voltage, current, resistance, volts, amperes, watts, ohms, etc., are defined and demonstrated. Basic wiring types, methods and sizes will be discussed and shown. Samples for hands on identification of wire size will take place. Breakers, fuses, GFCI's, and panels will be on site for training. The operation of the GFCI is demonstrated along with information about the ideal location for placement within the residential home. Testing equipment for electrical receptacles will be shown and differences between the testers demonstrated.
Identify the service entrance location and capacity. Identify the type of service line entrance. Understand how to locate the Main disconnect. Identify the location and capacity of the Main Panel. Determine proper grounding and bonding. Identify the location and capacity of sub panels. Determine the quality of circuits and conductors. Identify and describe the wiring method. Identify GFCI and non-GFCI electrical circuits. Evaluate outlets, fixtures, and switches. Determine the presence of smoke detectors.
For both underground and overhead services, the installation requirements will be illustrated. Various panels will be displayed along with configuration and requirements. Requirements for sub panels and bonding of the boxes will be discussed.
Where certain topics are the subject of a variety of well-taken opinions in the inspection community – such as Federal Pacific Electrical Panels, or insulation added around attic knob & tube circuits – attention is called to them. Where limits such as 3 Phase systems are in discussion among home inspectors, the merits and demerits of those discussions are also reviewed.
Plumbing Inspection
The basic function of the plumbing system within a residential home will be taught. The functions of the plumbing system's supply, drain, waste and vent piping will be illustrated. Identify and the type and location of the water service. Identify the type and location of the fuels service. Describe the water entrance size and material. Identify and describe the type of water piping. Identify and describe the type of waste piping. Identify and describe the type of vent piping. Determine the method of waste removal. Identify and evaluate all plumbing fixtures. Identify and evaluate the water heater.
Describe the importance of evaluating the system for proper water flow and drainage.
Identify the appropriate tools used to inspect the plumbing; moisture meters, flow meters, pressure gauges, thermometers, shower stoppers and water buckets for sampling and test gallons per minute. Samples will be available for training purposes.
Discussion about private water and waste systems, and related testing options, is part of each course. Methods of taking water samples will be demonstrated. Illustrations of both private water and waste systems displayed and explained in detail.
PLI employs an extensive lab of equipment types and hands-on opportunities in presenting these materials (see photos).
Appropriate reporting methods discussed and examples supplied.
6. Heating & Air Conditioning Inspection – 6 Hours.
Heating Inspections
Objective: Permanently installed heating systems, whether central, multiple zone, or area, will be covered. The basic components of central heating systems illustrated are: a safe container, a heat exchanger, disposal system, distribution system, heat outlets and temperature and safety controls. The common types covered are gas, oil, hot air, hot water, steam, electric radiant and electric baseboard systems.
Identify the heating system's location and fuel type. Determine the furnace age and capacity. Identify the method of heat distribution. Identify and describe fuel source. Learn to evaluate and describe heat exchanger. Understand how to identify proper venting. Learn how to recognize adequate combustion air. Identify and evaluate humidifier units. Identify and describe air filter units. Identify the location and type of supplemental heat.
Venting of noxious gases from carbon monoxide, due to improper combustion air requirements, and the proper overall venting of each system is covered in great detail. Consequences of improper venting will be covered through many illustrations.
Evaluation of the systems will be explained through methods and procedures. Proper tools needed to inspect will be discussed along with methods and procedures using them. Smoke detectors, carbon monoxide detectors, and gas detectors will be demonstrated along with additional use of other helpful items.
PLI employs an extensive lab of equipment types and hands-on opportunities in presenting these materials (see photos). Appropriate reporting methods are covered and examples supplied.
Air Conditioning Inspections
Air conditioning and heat pumps will be thoroughly discussed with the help of illustrations and instruction. In the heat pump and cooling mode of operation, the system will be examined for the different pressures and temperatures encountered during the operation of both modes. The refrigerant cycle and how it relates to residential cooling will be covered. Discussions will cover window and built-in wall units but they are not performed according to the methods of national standards of practice.
Identify the AC system's location and fuel type. Determine the AC system's age and capacity. Identify the method of cool air distribution. Identify the system's Electrical disconnect location. Describe the cool air distribution components.
Proper and necessary tools to perform the evaluation on the cooling systems will be covered, such as, thermometers and ammeters.
PLI employs an extensive lab of equipment types and hands-on opportunities in presenting these materials (see photos).
Appropriate reporting methods will be discussed and examples supplied.
7. Actual Inspection in Laboratory Setting – 16 Hours.
Actual inspection experience in a laboratory setting is provided every student. PLI uses extensive labs that provide numerous actual models of HVAC, electrical, plumbing, masonry and other materials – both common and uncommon in today's homes (see photos attached). Students may elect to exceed the PLI/Kentucky minimum of 16 lab hours, and additional tutoring is available. PLI considers hands-on experience and actual on-site work critical to the training of competent home inspectors.
Laboratory inspection work also is examined with a course final, using actual photos and component illustrations to be sure students recognize the issues involved and have obtained the full benefit of this important segment.
8. General Residential Construction – 3 Hours.
Techniques and types of residential construction, from "antiquities" to modern gutter-less, metal roofed, cantilevered homes and "small houses," are covered in this concluding course.
The course includes two hours of video and illustrated instruction, followed by on-site tours of different residential structures, including some then under construction. Although total time may exceed the three-hour minimum, PLI considers both classroom preparation and on-site contact to be indispensable components of a general residential construction overview for adequate home inspection training.
9. Environmental hazards, mitigation, water quality, and indoor air quality: one (1) hour 
As Kentucky law requires, a Board regulation provides that inspection reports shall include a statement that the report does not address environmental hazards.  The regulation then identifies 17 categories of "environmental hazards," including water quality and indoor air quality, among them mold and radon.  Further, the national exam includes questions on environmental hazards and mitigation options that must be studied to get a fair chance at doing well on it.  This section reviews all 17 categories in coordination with Kentucky law, such as specific radon laws, Kentucky Seller Disclosure notices, reporting disclosure standards, and national exam subjects.
10. Minimum Three Home Inspections (with satisfactory written reports

).
All students must complete not less than three actual home inspections. PLI provides students with sites, including some donated by NGOs ("Non-Governmental Organizations") and governmental groups (such as Fire Departments), though students are welcomed to inspect their own homes or homes or family and neighbors.
All reports are reviewed by PLI faculty, including experienced home inspectors, and at least two approvals are needed for any report to be rated "satisfactory." Copies of all reports accepted for this module are maintained with the student record and available for review by the Board.
11. Final (Exit) Examination.
In addition to examinations at the close of each module, PLI requires a "final" exam. In consideration of the time crunch this year, PLI has elected to offer alternative completions – i.e., students this year will not be required to complete three satisfactory home inspections as a precondition to taking their "final." Instead, completion may be achieved in either order, as is common in other professional fields, such as accounting and architecture (where applicants are permitted to pass or fail sections independently and then re-take failed sections subsequently). In other words, a student who has submitted less than three acceptable inspection reports nonetheless will be entitled to take the final exam after completion of all course work (items 1-8 above), irrespective of that student's score on the final exam. This policy will be reviewed by PLI at the close of the first academic year, but is believed to best serve the public and profession under the unusual circumstances present in 2006.
All final examinations will be maintained in a student's file under PLI's usual and customary document retention policy and available for review, by agreement with each student (as part of PLI's academic policies).
 12. Elective/Optional Courses
Because PLI is a comprehensive home inspector training institution, providing both pre-licensing and continuing education ("CE") credit courses, all students are offered several basic, though relatively peripheral (compared to courses required by regulation) that nonetheless are considered highly useful to home inspectors by PLI. A few examples, now available to all enrollees, including pre-licensing students, are described below.
Communication/Business Practices
Home inspection neither begins nor ends at the home that is inspected. This course is designed to give the inspector an understanding of the full inspection process, including the reasons for home inspections, their place in real estate transactions, the structure of inspections, and step-by-step office procedures. It will provide the home inspector verbal communication skills and understanding of strategies for managing liabilities as an inspector. The course is designed to learn and retain the key concepts of home inspection and management of the process from start-up to historical record. It also helps the inspector identify and focus upon best practices for conducting inspections, in the context of various markets and business scales.
Environmental Inspections & Radon Inspection
The course begins with the physics and science of radon — what is radon, how it was discovered, where it comes from and how it affects our health. Through a movie, power point presentation and lecture this subject will be discussed in detail. Different testing methods and the different equipment available will be on hand for viewing. How to read the results and interpret the information will be covered. A lecture about the various mitigation systems and how they are installed will be part of the class.
The course moves to broader issues of environmental inspection – ranging from abandoned septic systems and oil tanks to wells. The impact of EPA regulations and flood plain and flood plain insurance issues is touched upon. The second half focuses on home issues, ranging from newer construction materials to newer concerns as houses become increasingly air tight.
Introduction to Mold Inspections and Sampling
The purpose of this class is to teach the home inspector their limitations when facing, discussing, and sampling mold. This course will define mold, its health concerns, teach how to properly take a mold tape lift or collect a swab sample and fill out a Chain of Custody Record. Through a power point presentations, and hands-on sampling the inspector will learn enough to stay within the home inspector guidelines. No intrusive testing will be taught. Guest presenters from mold and WDO labs are included.
Report Writing
The focus is how to write a general home inspection report, within the Standards of Practice, and providing proper recommendations for any further professional evaluation an inspector determines is needed for a client. Samples of various kinds of home inspection reports are provided, in addition to an overview of leading home inspection software systems. Methods of quality control in the production of home inspection reports are considered, along with record retention policies and verification libraries (such as unused site photos, additional data received in the course of inspection, etc.).
Wood Destroying Insect Inspection
Learn to identify a variety of wood destroying insects and recognize visible signs of damaged caused by each insect. Through visuals (real insect samples) slides and power point presentations, a thorough review of types of insects, their habits and living conditions. Examples of wood damage, structural damage and infestation will be displayed for a look, touch and feel. Sources of food for each type will be discussed. Different treatment methods, chemicals and methods used will be covered.
Standards of Practice
ASHI
http://www.ashi.org/inspectors/standards/standards.asp
InterNachi