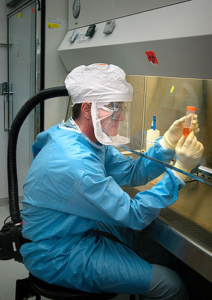 "Let's stay safe out there" usually is the last thing a PLI class hears before heading home.
               That's easier to say than do with this new coronavirus bug.
               Partly, that's because of suspicions the government is not leveling with us.  Partly it's because the virus is new and tricky.  Partly it's because there's no testing, no cure, and precious little warning.  And partly it's because there's too little solid information.
                The bug is here. Kentucky and Ohio declared states of emergency. So far, there are confirmed cases in Fayette and Jefferson counties, two of the most densely populated areas in Kentucky. There's two more in Harrison county. That's with sub-minimal testing.  Indiana has at least two cases.  There are bound to be more.
If as many Americans catch Covid-19 as caught swine flu (aka H1N1), the death toll would exceed 440,000 Americans, The Wall Street Journal reported (3/9/20).
               So what's a solo home inspector to do?
               Here's a quick list of actual expert ways to cope, along with a thumbnail summary of the best we know today, and a little about the fears from yesterdays.
7 Ways Experts Cope with Corvid-19
The experts' top recommendation is simple:  Wash your hands as much as you can.  Do it the right way.  That means a soapy wash for at least 20 seconds (about the time it takes to sing Happy Birthday to You twice).
               Want a graphic reminder?  Watch "Contagion," the star loaded 2011 film that kills off Gwyneth Paltrow in the first 15 minutes, after a flight home from Hong Kong.  (Matt Damon survives.)  You'll never look at door knobs the same again!  It's on Hulu, costs money on Amazon Prime (at a time like this!  Uh, when it's also selling Purcell for $99!), and can be found on other sites.  When it comes to door knobs, now would be a good time to try gripping them with tissues or paper towels.
Carry hand sanitizer and use it after every job.  Can't find any?  It's just alcohol.  Buy a bottle or two and use it instead.  (Save the Maker's Mark for home.)

Use Clorox wipes in between hand washing and alcohol/hand sanitizers. 

Stop touching your face.  Experts say it's one of the best ways to prevent the spread.  Pay attention.  Carry pocket tissues.  Whenever you feel the urge to touch your face, use a tissue instead.  Skip handshakes.  You'll see the Big Dogs doing elbow bumps, instead of shakes, for at least the next month.  Take the hint.

Home inspectors have been carrying N95 masks for years to handle moldy houses.  Save them.  For now, buy extra when you can.  Others, and you, may need them.  If not, great!  You can use them later.  Ration using masks for public places (like the grocery) after things get worse.  They will get worse before they get better.

Be ready to ride this out.  Schools may close.  Families may have to take care of kids, or grandparents.  (Don't count on the government, or even hospital beds, if this gets hot.)

Ditch loose talk.  Get facts.  Wearing gloves to touch surfaces probably won't prevent infection.  Taking mega-doses of Vitamin C will not boost your immunity.  (We don't know anything that will as of today.)  Flu shots do not protect against coronavirus.  But you still should get one.  Ordinary flu already has killed thousands more Americans than the first days of the coronavirus.
               This outbreak has the makings of the "first true social media 'infodemic,'" MIT Technology Review reported, where "social media has zipped information and misinformation around the world at unprecedented speeds, fueling panic…and hope."
Meanwhile, watch yourself.  Once exposed to a virus carrier, the CDC (Center for Disease Control) protocol of a 14-day isolation seems to be effective.  It looks like 97.5% of those who develop symptoms will display them within 11.5 days of exposure.  The first signs are low-grade fever, coughing, and then respiratory distress.  Anyone who decides to see a doctor or urgent care facility should call ahead, so they can be ready.  There already are five Congressmen who are on self-quarantine after being exposed to a virus carrier.  Four of them attended the annual Conservative Political Action Conference (CPAC) in Maryland last month and then flew back to their home states (AZ, FL, GA, TX).  If you decide to self-quarantine, be sure you know how.  It's rigorous.
3 Things to Push For
               See a politician, or know one?  Let them know what you think.  There's no reason to take this lying down – especially if you have time on your hands.
               In the first week of March, over 700 public health experts got together to recommend steps to strengthen our safety protocols against the virus, and pandemics.  We cherry picked a few.
The Trump administration is "considering" using an existing federal disaster program (the National Disaster Medical System) to pay hospitals and doctors to take care of uninsured people.  Git it done!  Uninsured Americans are at high risk of passing on the virus until they get sick enough to turn green.

Free Covid19 testing, and at least 14 sick days paid with government funded, are "must do" – and long overdue. 

Direct funds to local health centers to test and treat on the spot, regardless of ability to pay or immigrant status or anything else.  Nothing should deter anyone from getting care right away.
Fears and Facts From Yesterday's Epidemics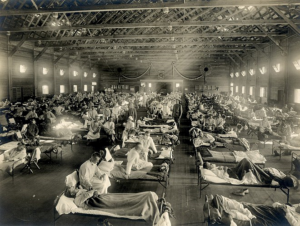 The worst case was the "Spanish flu" in 1918.  This is the one every health professional dearly wants to avoid.
               As World War I was winding down, a third of the world population was infected in matter of months.  Somewhere between 50 and 100 million people died – so many no one is surely exactly how many, even today.
               The world was different then, of course.  Antibiotics, modern hospitals, and special intensive care units did not exist, just for starters.  But people also did not travel so far so fast so often, either.
               For health experts, the similarities between Spanish flu and Covid-19 are more important.  Both were brand new viruses, with no known treatment or vaccine.  Both spread through the air with respiratory droplets, and both killed primarily through pneumonia.
               Both outbreaks also were made worse by leadership mistakes.  Quite a few are covered in the classic 2005 book "The Great Influenza" by historian John M. Barry.  Here are some examples:
               In 1918, Philadelphia was hit hard.  On Sept. 28, Philadelphia health officials allowed a Liberty Loan parade to sell millions of dollars in war bonds, overriding warning it would be unsafe.  About 200,000 people showed up for the parade.  Within 72 hours, every bed in the city's 3 hospitals was filled.
               Pres. Woodrow Wilson was so intent on finishing WWI that be brushed aside warnings from the Navy and Army chiefs and even his own doctor.  The U.S. ended up losing 675,000 lives to the flu, compared with 53,000 killed in combat in all of World War I.
               Lots was learned from that tragedy too.  With national leadership lacking, cities and states were on their own.  Studies since then showed the effectiveness of regular handwashing, for example.  Simple hygiene cut flu cases by as much as 40% — nearly as effective as today's seasonal flue vaccines.  Cities that used isolation policies (such as quarantining houses) and "social distancing" (closing big public gatherings, like schools, churches, and theaters) had 50% lower death rates.  Cites that started the soonest, and stuck with it, got the best outcomes.
               One other thing stood out.  America is loaded with Good Samaritans.  In the deadliest days of 1918, when governments all over were swamped, volunteers stepped in.  They distributed food and resources to people in need.  (Science journalist Laura Spinney tells many of these stories in her 2017 book "Pale Rider.")