The federal government now has turned around and said everyone should wear facemasks.
That's a switch.  We'll hear lots more about it in the weeks ahead.
              Yet the timeline so far is clear as can be.  On Feb. 28 Vice-President Mike Pence, head of the White House coronavirus response, said "let me be very clear:  The average American does not need to go out and buy a mask."  Maybe "fake news" would cover that.  Masks already were hard to find then and it may be the miscue was intended to get more masks to hospitals and first responders.
              Today, the CDC (Centers for Disease Control, the experts on this) is pushing the White House to recommend people wear cloth face masks or face coverings in public.  It's not like this is secret sauce.  China's dramatic response to the virus was masks for everyone, including all top officials in public appearances.  Same for the rest of the world.  Studies showed it helped.   
              Expect a White House turnabout any day now, advising Americans to cover their face.
              So the question is what to pick and why?
              There are plenty of kinds of facemasks, from surgical masks to football to welders to Western bandanas.  Only three matter here.
              There are just three basic kinds of facemasks when it comes to safety in this pandemic.  Those three are:  Respirators, mainly N95 masks; medical grade surgical masks; and cloth face masks.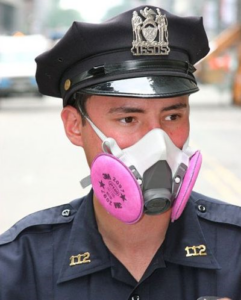 Respirators
              Respirators are top protection.  Of the three types of respirators, as a practical matter, N95s are the ones doctors and hospital workers want.  N95s are disposable particulate filtering facepiece respirators that are discarded when they become unsuitable.  They also are the ones needed most.  Home inspectors often carry N95 masks because they are the best choice to stay safe in moldy houses.
              The two other kinds of respirators are elastomeric respirators and powered air purifying respirators.  The elastomeric respirators typically are black plastic with replaceable filters.  P100 masks with their two distinctive pink filters, are the most common.  They all are reusable but remind people of gas masks.  Even so, some inspectors prefer them.  Forget the battery powered respirators.
              N95 masks have a polymer cup that elastic bands hold snugly to the face.  They can filter out 95% of airborne particles – which is where they get their name.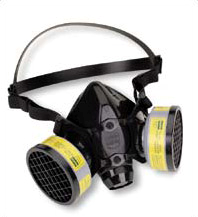 Medical Grade Masks
              The second class of masks is "medical-grade masks."  The FDA (U.S. Food & Drug Administration) site says they also are called "surgical, isolation, dental or medical procedure masks" regulated by Title 21 of the CFR (Code of Federal Regulations).
              Medical grade masks are "effective in blocking splashes and large-particle droplets" but do nt "filter or block very small particles in the air that may be transmitted by coughs, sneezes or certain medical procedures," the FDA says.  They "do not provide protection from germs and other contaminants because of the loose fit between the surface of the mask and your face."  They are meant to be worn only once and discarded.
              When the FDA posted those notes, it was thinking about keeping contaminants out of a user's face – not keeping coughs, saliva, and viral drops in. 
              A key reason the CDC is urging everyone to wear masks in that no one can tell that they have coronavirus for days, and as many as 25% may never know because they are "asymptomatic," or show no signs of infection).  An N95 mask and a surgical mask will reduce the spread of disease by helping prevent carriers pass on the virus and keep it to themselves.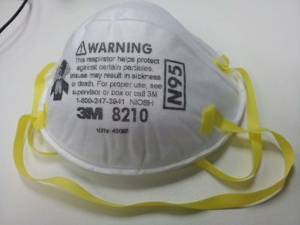 Cloth Masks
              Last come "cloth face masks," which are better than nothing, for the same reasons, according to the CDC.  The cloth masks are even being turned out by fashion designers now, and a red MASA ("make America safe again") is sure to follow. 
              Cloth masks are meant for use in commuting, to care for those around you, and to signal civic responsibility.  That kind of civic engagement is less a tradition in America, but it is seen around the global.  It just might take root here and blossom more.
              Cloth masks still are better protection — for you and those around you — than rolling the dice.   
              What a difference a month makes!  On March 1, the U.S. reported only 7 coronavirus cases.  Thirty days later, more people were infected in the U.S. than anywhere else in the world – nearly 200,000 confirmed cases, affecting every state and the nation's capital.
              There have been over 3,400 deaths and, at the end of the month, the President said that around 100,000 American dead would be a good outcome (compared to models showing 2.2 million dead if the nation did nothing).
              This Newsletter travels at the speed of light to you.  Even so, all those numbers will be small in the rear-view mirror compared to the latest, by the time you get this.