NEW BD OF HOME INSPECTORS FIRST MEETING
EVERYTHING OLD IS NEW AGAIN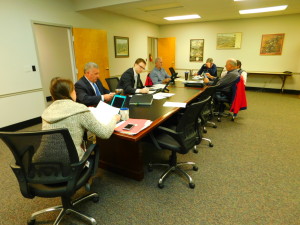 If you thought the old Kentucky Board of Home Inspectors was clueless before, you should've stopped by the first meeting of the new, recreated Board of Home Inspectors (BHI). (The new name drops the "Kentucky" from the name.)
So the three board members appointed to the newly "recreated"  "Board of Home Inspectors" showed up. So did non-voting board member Robb Johnson of Louisville. Former chairman and non-voting board member Mark Oerther no-showed, as did Jim Chandler, also a non-voting carryover member.  The seats for the Realtor® , manufactured housing, and "public at large" members have been vacant for ages.
The rest of the seats in the audience were vacant too.  Not one of the people sounding off on the Internet was there to say a word.
What happened next unveiled the first clues about what's ahead.
You could understand plenty of reasons why board members were clueless.
The old Ky Board of Home Inspectors was abolished without warning.  Nobody consulted with any of the old Ky Board members. The first that any of them knew was when the phone rang the Friday before Tuesday's Dec. 13 meeting and they were told the old Ky Bd was gone. An email to Bud Wenke, the new board's new chair, copied to all the old board members, arrived about the same time, after state government went home at 4 p.m.
If they read the Executive Order abolishing the old Ky Bd of Home Inspectors, it hardly was a roadmap to what would happen next, or how things would work.
Adding to the excitement, the old Ky Bd lawyer was fired on Dec. 9, about the same time Ky Bd members were getting their phone calls – and most of the old Ky Bd seats were disappearing.
The new 3-member Board of Home Inspectors was cowed Tuesday.  New Department of Professional Licensing Commissioner Larry Brown was sitting back waiting for questions.  He was running the show.  Board members were timidly requesting tid-bits of information.
Brown won the Commissioner's post heading the new Kentucky Department of Professional Licensing, The Department was created as part of Gov. Bevin's Executive Order reorganizing the old Ky Bd of Home Inspectors and three other industry licensing agencies (Realtors®, appraisers, and auctioneers).
Brown used to be Executive Director of the Office of Occupations & Professions (OOPs), which got turned into the new Department of Professional Licensing, like Cinderella's pumpkin. None of the other +/- 20 orphan licensing boards housed at OOPs were mentioned in the Executive Order, which means January is likely to bring Chapter 3 in the reorganization.  (Chapter 1 was the Executive Order reorganizing the Department of Housing, Buildings & Construction (DHBC) and 8 boards there, just a few days before the Executive Order abolishing and reorganizing the Board of Home Inspectors became Chapter 2.)
Brown is a "semi-retired" insurance salesman who specialized in life insurance, DI (disability Income), & annuities through his own small business firm, Larry Brown CLU & Associates.  Before Obamacare in 2014, he sold health insurance too.  That was Brown's prime focus for over 41 years, since roughly June, 1975.
Brown was the Florence, KY representative on the OKI (Ohio-Kentucky-Indiana) Regional Council of Governments Board of Directors for about 3 years, starting in January, 2012.  ("OKI" stands for "Ohio-Kentucky-Indiana."  You've gotta live up in Northern Kentucky to get it.) He was elected a Florence City Council member in January, 2011 and served 4 years.  Let us not forget Florence is not just the "Y'ALL" water tower beside the expressway to Cincinnati, it is Kentucky's 8th largest city.
Brown has been involved with real estate policy and planning through his years on the Boone County Planning Commission.
He's proud that he was a soccer official with the KHSSA (Kentucky High School Soccer Association) and USSF (United States Soccer Federation).
He received his BS in Business from NKY (Northern Kentucky University) in 1975.  Six years later, he got his Chartered Life Underwriter (CLU) credential through The American College of Financial Services, a small school based in Philadelphia.
So Brown is new to state government.  As he said at the Dec. Board meeting, "this is my first Executive Order."
But Brown is not new to running a successful business and this administration is built on the idea of running government like a business.  When it comes to Real Estate Authority licenses, he'll be the CEO.  He won't play down in the trenches; he'll call 'em like the ref and field a team like a coach.
The new Board of Home Inspectors new chair, Bud Wenke, solemnly declared that "the bottom line is this: the Ky Board of Home Inspectors "serves at the pleasure of the Governor."
Maybe it was meant as a sign of submission, or subordination.  It won smiles — partly because it instantly signaled to the new board lawyer that Brown brought that Wenke simply did not know the board's statutes or what was going on.  (The Ky Bd of Home Inspectors does not "serve at the pleasure of the Governor."   It's an independent board whose members can be removed only for cause.  KRS 198B.704(5) names three causes (incompetence, neglect of duty, and unprofessional conduct).  More importantly, all that is irrelevant.  It was about reorganizing, not removing.  The laws on government reorganization trump all that, at least until the General Assembly adjourns.  No board members actually were "removed," in the first place.  All but three were just converted into non-voting members.)
Mitch Buchanan, the senior member of the old board named to the new Board of Home Inspectors, came prepared.  He had a list of questions written down.
                                                         Board Makeup & the Law
He started with the most discussed one.  "The new board is basically in conflict with our statutes and regs….," he began.  But he didn't get far.
"The Exec Order has the force of law at this point," the new Board lawyer, Carson Kerr, said.  "The legislative session in January can make it law or do nothing, which lets it lapse."
What the lawyer did not say was two basic things.  First, Gov. Bevin owns Republican majorities now, for the first time,  this January.  Second, if the General Assembly happened to do nothing this session, then the Governor can just issue a new Executive Order then.
Buchanan pursued the point.  "Our existing statute determines member makeup.  Who makes decisions to change that?"
Brown took over.  "The new Board is 3 members appointed by the Governor.  No  industry specified."  He pointed to a thick 3-ring binder and said he'd found some licensing boards without anyone from the industry on the board.
                                                                    It's Advisory
"Regardless of the how the board is made up, I've gotta talk to the industry," Brown continued.  "We've gotta use them as a resource.  But they're in an advisory capacity."
"Advisory capacity."  "A resource."
Call that the leading signal.
New, replacement regulations will not be written by the new Board of Home Inspectors.  From now on, the board will give advice.  How the rest will work out, particularly license fees and complaints, probably still is on the drawing boards.
                                                                          SOPs
Buchanan zeroed-in on the perennial "one SOP" question – as though anybody but home inspectors even knows what, or how many, SOP there are.
"We have three SOPs right now," Buchanan said. "Can the Executive Director decide from now on we have one standard?"
Sure enough, Commissioner Brown and Kerr, the new lawyer, were not clear what "SOP" was about.  They hardly are the only ones.  No one else cares.  Do you ask your doctor what medical standards he follows?  Or check out the standards for your broker or dentist or accountant?  Or think about members of the old board who jumped on the idea of ditching the NAHI SOP just because NAHI died.  Every new doctor takes an oath to follow standards set up by a doctor named Hippocrates who died about 1,400 years ago, and he never even used the web!  Plenty of home inspectors have done good work for years under the NAHI SOP.
So Kerr replied with the general rule.  "If it's in statute, it takes a change; if it's a reg, the Commissioner can change it through the 13A process on which you can comment on.  You're an advisory council," Kerr said.  (The NAHI and ASHI SOP are in the statute' NACHI is not.)
"Advisory council."  Get it?
This is a new framework for all four new boards rolled up into the new Real Estate Authority.  It's just a framework, more like an empty suitcase that's getting ready to be packed.
That means home inspectors should start the New Year getting in positions to keep up with the new legislation.  Otherwise, the new setup will pretty much be dropped on everyone, with an after-the-fact chance to comment.
                                                                   Opportunities
The good news is that we can expect less, not more, regulation and paperwork.  This reorganization is part of a larger effort by this administration, known as "red tape reduction."  They are serious about it.  In mid-November, they celebrated "K.O.ing" some 300 regulations, including about a third at the reorganized Boxing Commission.
The old Ky Board of Home Inspectors had been going in the opposite direction, bloating regulations from the original four regs in 2006 to a total of 10 last month.  The whole mess was re-written three times in the last two years – without the Board even asking for home inspector input.
                                                                          E&O
Opportunities abound now.
For example, PLI's Dean, who was attending the meeting (as usual), brought up providing low cost E&O insurance for home inspectors, piggybacking on the old Real Estate Commission's existing group policy.
That's a win-win — for the public and for home inspectors.  Too often, clients with a problem inspection end up holding the bag.  Almost 300 home inspection companies and inspectors have gone dark since licensing, leaving consumers with no recourse.  E&O coverage would fill that sinkhole.  Meanwhile, home inspectors are paying thousands for E&O policies that cost a few hundred dollars for Realtors® — mainly because 17,000 real estate licenses in a big, low risk group.  Adding 400 home inspectors (2%) to a group of over 17,000 would not budge the risk needle.
"I have to approve that insurance policy going forward," Brown said. "We're talking that Thursday at the real estate commission.  I will now throw you guys into that.  I think Continental is the insurance carrier.  The chairman takes those proposals to the Authority."  We'll take his word for it.
It was sounding pretty good until the new board chair chimed in.  "I look at it as a double edged sword," Wenke said.  "It lets you sleep at night but it puts a target on your back.  I have to have it because I'm licensed in Tennessee.  Mine currently is $2,600/year."  Commissioner Brown, and insurance expert, looked puzzled.  What's the point?  Does it really help home inspectors for anyone to pay $2,600 for E&O insurance they could get $127 in the Realtors® group?  And, like all insurance experts, Brown knows there is no research at all showing lawsuits are more frequent against professionals with insurance than without.  No insurance company sells lawsuit insurance to attract lawsuit claims.
Buchanan added that he made a "business decision" to drop E&O insurance after his premium "was $7,000 a year."  He obviously knew all the reasons E&O is a plus for home inspectors, but got priced out of the opportunity.  We'd bet he'd buy E&O again at $200 a year.
All the more reason to jump right on affordable E&O coverage for Kentucky home inspectors.  There is no reason to make E&O "mandatory" for inspectors, as it is now for agents (in Kentucky, but not Indiana). That's just more regulations.
Just making affordable E&O available for home inspectors would be game-changer enough.  You would not need any regulation making it "mandatory."
                                                                     Reciprocity
Talking about benefits for home inspectors in this reorganization prompted another interesting thought from Brown.
"I want to meet with the 29 other states that have Republican Governors and get reciprocity," he said.  Hurrah!
At last.  For a decade, the law allowed reciprocity with other states for home inspectors.  The old board dawdled for years.  This year it finally voted to send letters to neighboring states.  Several times.  But it just drifted.
Kentucky home inspectors on the borders, particular Indiana's and Tennessee's, stand to benefit, lower overhead, and pick up new markets.  They've tried to make progress on reciprocity for years.  Time to get 'r' done!
Brown is going down the right track and deserves home inspectors encouragement.
Brown also is heading up the study that was slated to fill in blanks around Jan. 17.  He now says there's "no way it can be completed by the end of January."  Filling in the blanks will take more than just a few more weeks.
So, while you're encouraging the new Commissioner, there's time to put some thought into suggestions and ideas while they're still building the new licensing set-up.  Drop them an email.  This is the best opening in a decade.
The next window into the process probably will be the first meeting of the new Real Estate Authority.
No date has been announced yet, but it will be in January.
You know PLI will keep you posted.
Think of this New Year as one with genuinely new opportunities, including making home inspector licensing in Kentucky a national leader!