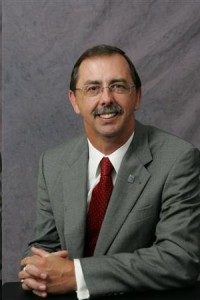 Kenneth W. Warden, of Fort Thomas, was named the first Executive Director of the new  Kentucky Real Estate Authority on Dec. 13.
The appointment by David Dickerson, Secretary of the Public Protection Cabinet (PPC), was announced during the first meeting of the new Board of Home Inspectors. It was effective immediately.
The new "Board of Home Inspectors" (BHI) replaces the 10-year old "Kentucky Board of Home Inspectors" (KBHI).  The old Kentucky board was abolished by Gov. Bevin's Executive Order at the beginning of December.
When the old KBHI was abolished, the new BHI was rolled up, along with three other real estate licensing boards, into the new Kentucky Real Estate Authority.  All four licensing boards – home inspectors, appraisers, Realtors, and auctioneers – were trimmed down to three members.  The chair of each board sits on the Authority board, which has not met yet.  (It doesn't even show up on the state PPC website yet!)  The Authority Board, in turn is chaired by its Executive Director Warden.
That makes Warden the point man, particularly at the detail level, like reducing regulatory red tape and handling replacement legislation.  Warden will work in concert with the new Commissioner of the new Kentucky Department of Professional Licensing, Larry Brown (and others, like Dickerson, Barry Dunn, and Robin Vick at PPC).  Brown, from nearby Florence, KY, is known to home inspectors as the former Executive Director of the Office of Occupations & Professions (OOPs).  OOPs was reorganized and broadened into the Department of Professional Licensing under Gov. Bevin's Executive Order.  Brown heads the new Department.
Home inspectors can help solve the problems created by the old Board of Home Inspectors over the past 5-6 years.  Or they can become a problem and risk licensing entirely.  Warden has promised to provide a kind of "suggestion box," where licensees can offer their ideas to make licensing work and modernize the process.  We'll let you know as soon as it's available.
Warden, 66, is an amazing choice.  He's had hands on every one of the professions joined under the new Real Estate Authority, one way or another.  While his core work has been real estate sales, he also is a Kentucky certified appraiser, with direct involvement in the original home inspector licensing law, and a leadership role in handling the public's growing concern with mold in homes. No one else who could bridge the gaps between all those licenses comes to mind.
Warden genuinely is "one of a kind."  You have to give Gov. Bevin and his crew credit not just for finding someone with such an "across the board" background but also for convincing him to take this on.
Warden helped kick off home inspector licensing back at the very start.  Even then, Warden never wanted home inspector licensing to be run by real estate sales agents.  He believed in the advantages of independent professionals – for everyone involved, from home inspectors to agents to the general public.
That handle on the "big picture" showed up often as we talked.  People are still sketching the broad outlines of how the new Authority and slimmed-down boards will work, but Warden has a gift for listening and a sense of where all this is going.  You can"t help believing this is a caring pro, and not a proto-bureaucrat.  The pros who know him up in Northern Kentucky think so too.
A crucial sign that Warden is "all in" is his decision to put his business into a blind trust, instead of hanging on and facing claims of conflicted interests or, worse, profiteering.  Leaving your private businesses behind to do public service is a major marker of commitment and dedication.  It does not get any better than that, partly because it is a serious, meaningful sacrifice.  If members of the Board of Home Inspectors had to do that, it would be a new world, and a breath of fresh air.  As things stand, those Board members do not even bother to make required filings covering the conflicts of interest they have, like being an officer or director of a competing business regulated by the Board.
Part of the big picture that is firming up already, as Warden makes the rounds this week with stakeholders affected by the reorganization, is a commitment to bring licensing into the 21st century.  You can bet the Board of Home Inspectors will be moving licensing totally online – sooner rather than later.  That's so overdue it should warm the hearts of every home inspector.
Kentucky already lags state like Tennessee and Indiana.  In those states, there's no personal nit picking of piles of paperwork, like the Ky Board of Home Inspectors has been doing.  In those states, licensing and renewals is virtually automated.  You send in what the rules require and you get your license back.  Check, push submit, get license.  Here, who knows?  The Ky Board of Home Inspectors has sent out letters demanding junk that never has been in any of the rules – like proof a sample inspection was paid for, or naming your SOP in the report, or imaginary graffitti on a CE certificate.  The list goes on, and no inspector ambushed by that sort of fictional, bogus "rule" ever had a clue where anyone on the Ky Board came up it.  Soon, we can expect that to be history – at long last.
But let's be crystal clear.  Some of those same people will moan and groan in the months ahead. Some of them already are, though that noise mostly is a sideshow somewhere to the right of humorous and the left of clueless.
Some of the chatter is as wild as the fake news in the last election, and some is just plain pointless.  One writer advises "It is extremely important that no one accept any positions on these false Boards created by this executive order because to do so could put your professional and personal reputation at risk. Because these false boards have no legal authority from Statute any actions they take or attempt to take are void and you could be held liable for participating."  This is legal nonsense and just plain false.  But it's sure sign of someone who should follow his own advice and never serve on a home inspector licensing board.  The hotbed host for much of this has been the KREIA website.  "Helping"? "Counter-productive" would be more like it.  The idea that, as one post put it, "This is the same thing that was done by the Republican Governor in Michigan that created the Flint Water Crisis!" gives you the feel.  Seriously?  And if anyone really believes that bad-mouthing Governor Bevin or Commissioner Larry Brown is productive, maybe they should read Dale Carnegie.  This is not personal, and impugning people's motives is not politics.  Politics is about policy.  Policy is where we need to focus if progress is out most important product.  Of course, not one of those grandstanders showed up at the new Board of Home Inspectors first meeting Dec. 13 (reported in the article above).
Listening to that baloney will run the risk that the legislature simply throws in the towel on home inspecting.  Nothing at all requires the legislature, or Gov. Bevin, to re-enact home inspector licensing.  Killing it would take us back to 2004, and turn Kentucky into the kind of wilderness backwater that Ohio is – where anyone with a flashlight and a ladder can call themselves "home inspectors."  Responsible professionals know better.
Falling for those whiners – instead of getting to work to get it right – also would re-open the door to city and county licensing of home inspectors.  Lexington-Fayette County was just starting their own home inspector licensing when our state law was passed in 2004.  Without the state licensing law, other revenue hungry cities and counties surely would have followed Lexington with its $500 license.  Our license law cuts that off.  Reason enough to make it work!
Warden brings over 40 years of real estate experience to the position.  Until his appointment, he was the owner of Warden & Associates in Northern Kentucky where he also worked as a broker. Warden & Associates is a small, privately owned, single site real estate sales agent and management company founded in 1989.  There is a lot to be said for people who become public servants later in life, after successful years in small business.  Practically all home inspectors in this region are small businesses.  Before starting his own firm, Warden oversaw the Campbell County operations of West Shell, Inc. and served the company as a vice‑president and partner.
He holds state licenses in Kentucky and Ohio as a real estate broker and is a Kentucky state certified residential appraiser.  He holds the professional designations of Certified Residential Specialist (CRS) and Graduate, REALTOR Institute (GRI).
He is a 2016 National Association of Realtors (NAR) director.  As part of his NAR work, he chaired the Risk Management Committee in 2003, the Insurance Best Practices Work Group in 2003, the Mold Working Group in 2002, the Insurance Working Group in 1996, was National Trustee for the Realtors Political Action Committee (RPAC), and was a regional vice‑president.
Warden was president of the Kentucky Association of Realtors in 2004, where he also served as treasurer in 1989 and have been on the Board of Directors or delegate body since 1996.   Warden received the group's 2015 Distinguished Service Award for his outstanding contributions to real estate.  He was named Kentucky Realtor of the Year in 2005.
Warden also served as a president, director and member of the Northern Kentucky Association of Realtors.  He served as President of the Northern Kentucky Association of Realtors in 2012.
At the local level, he was twice chosen president of the Campbell County Board of Realtors, in 1982 and 1992, and served on the local RPAC. He was president of the Multiple Listing Service in 1996.  His considerable list of trophies and wallpaper includes the Robert J. Enos award twice and local Realtor of the year twice.
In his home town, he has served on the Ft. Thomas Renaissance Main Street Board of Directors and as chairman of Economic Restructuring Committee. He has served on the Kentucky Progress Commission, the Kentucky Housing Corporation Affordable Housing Trust Fund Advisory Committee, the American Legion and Northern Kentucky University Alumni.  He also has been a local real estate investor, sometimes through Warden Properties, LLC with Glenn E. Acree.  He even is a home town Constable (Campbell County District #2).
One of the surest signs of a real professional is that he gives back – to his profession, to his peers, and his community.  A background like this is a poster child example.  There really is practically no excuse for an exclusive licensed monopoly of any business, like professionals enjoy, unless those professionals do more than score exclusive profits.  The "social contract" – the deal with society – that excuses exclusivity and allows licensed monopolies hinges on a fair trade, where professionals deserve their special status because of all they contribute in return.  Warden has met that test, and topped it.  This does not mean that he, or anyone else, is immune to making mistakes, of course.  But it does mean that he has show he knows how to succeed by contributing to his profession, listening, caring about others, and finding common ground to solve problems.
Warden has made steady personal campaign contributions every election cycle, in ranges like $1,550 in 2000, $1,100 in 2002, $3,487 in 2006, $250 in 2010, $1,100 in 2012.  Generally, he supported Republicans for Congress and the NAR Political Action Committee, where he has served as a Trustee.  This is not somebody buying favors; this is pitching in.
Warden is a graduate of Northern Kentucky University.  He is an Army veteran who received an Army Commendation Medal for Meritorious Service in Vietnam.
He claims to have spare time to fish and hunt.  That may be off the table for the next year or two!
"I am honored to receive this appointment," said Warden, according to the state's pablum news release. "The Kentucky Real Estate Authority was created to be a point of collaboration and innovation for the industry. I look forward to working with board members to impact positive change for the statewide real estate sector."  Really, it was more like he was charged up and rearin' to go.
At Warden's age, this probably is his "last hurrah" in government.  If Gov. Bevin is re-elected, he might have seven years to fine tune it and polish the project – but he can only count on three more years.  That's a narrow window in state government, where the General Assembly only meets in regular session every two years, and then for 90 days.  The good news is that Warden brings a tremendous, virtually unique set of skills to a very tough job.  The bad news is that there is so much to do and so little time.
Our vote?  Let's help Warden succeed.  Let's seize this opportunity to fix what's wrong with home inspector licensing and turn it into what really works.
This is our best shot in 10 years.  If you've ever been discouraged that the Ky Board of Home Inspectors never took one unlicensed wannabe "home inspector" off the streets, now is the time to fix it.  If you ever felt unhappy the Ky Bd of Home Inspectors never did a things to help Kentuckians learn about the protections they get from home inspections, let's straighten that out.  If it was a bummer that the Ky Board of Home Inspectors never figured out how to spend our license fees on anything but itself, the time for repairs is now.  If it blew your mind that the Ky Board of Home Inspectors had over $300,000 of your license fees "swept" (taken) for balancing the state budget – for one reason, and one reason only – that the Board took your money and let it collect dust, unspent, let's fix it now.  If you thought a mandatory 3-hour manufactured housing course was nuts because you never inspect manufactured homes, let's fix it and make it a license endorsement, like motorcycles.  If you thought the board seriously needed Executive Branch Ethics Commission oversight to stop funneling itself goodies, let's get that done.  That's just for starters.  You've got your list.  All of us do.
We've learned a lot in 10 years of this Ky Board of Home Inspectors.  Let's put it to work and give it the tune-up it needs.
Read the appointment news release: http://kentucky.gov/Pages/Activity‑stream.aspx?n=PPC&prId=34